06 February, 2013


Professor Yoram Bilu to receive Israel Prize in sociological and anthropological research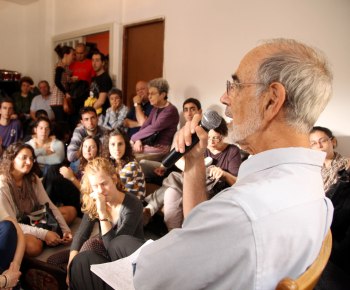 Prof. Yoram Bilu speaking at the Hebrew University's "Einstein in Azza" lecture event (Photo: Sasson Tiram)

Israel's Education Minister Gideon Sa'ar has announced that Prof. Yoram Bilu from the Hebrew University of Jerusalem will receive the 2013 Israel Prize. Prof. Bilu, who spent many years teaching and conducting research in the university's Department of Sociology and Anthropology and Department of Psychology, will receive the award for his work on sociological and anthropological research.

The award committee noted that Professor Bilu is a psychological anthropologist who has exposed the cultural codes that define a large part of the immigration from North Africa and the personal troubles and hardships of the collective transition from traditional to modern society in Israel. The Committee also noted that ''Prof. Bilu's contributions to understanding the problem of interaction between cultures is important both practically and theoretically.''

The award will be presented at an Israel Independence Day ceremony in April attended by Israel's president, prime minister, Supreme Court president and other national leaders. Established in 1953, the Israel Prize is considered Israel's highest honor and is awarded to Israeli citizens or organizations that have displayed excellence in their field or contributed significantly to Israeli culture.

Prof. Bilu was born in Israel in the midst of World War II, spent his childhood and youth in Haifa, Kiryat Haim and Tel Aviv, and served as an officer in the army. He completed his B.A. in Psychology and Sociology and his M.A. in Clinical Psychology at the Hebrew University. He also obtained his Ph.D. at the university in 1979 with a doctoral dissertation on ''Traditional Psychiatry in Israel: Moroccan Born Moshav Members with Psychiatric Disorders and Problems in Living and Their Traditional Healers.''

Prof. Bilu has served as both chair of the Department of Psychology and head of the Authority for Doctoral Students at the university. From 1989-1991 he served as president of the Israeli Anthropological Association. He has been a visiting professor at universities including Brandeis University, the Jewish Theological Seminary, and UC San Diego. Prof. Bilu is a widely-published author and has served as editor of many journals. His books include The Saints' Impresarios: Dreamers, Healers, and Holy Men in Israel's Urban Periphery, published in 2010.

Focusing on Israeli society and Jewish traditional culture, Prof. Bilu's research interests include the anthropology of religion, culture and mental health, the sanctification of space in Israel, and Maghrebi Jewish culture. His research includes the renaissance of saint worship among Israelis of Moroccan background, the messianic fervor within the Chabad-Lubavitch movement, Jewish Moroccan ethno-psychiatry, manifestations of spirit possession, and culture-sensitive therapy with Jewish ultra-orthodox clients.