01 January, 2013


Professor Nayef Jarrous appointed Advisor for Minority Affairs to Hebrew University President
Will lead university efforts to increase minorities' access to higher education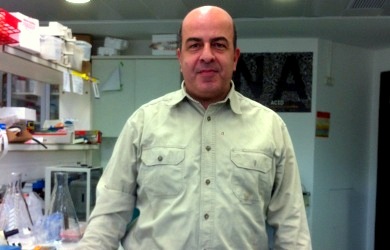 Prof. Nayef Jarrous (photo courtesy of Prof. Jarrous)

The Hebrew University of Jerusalem is increasing its support for students from minority backgrounds and creating a program to encourage their access to higher education. To lead these efforts, the University has appointed Prof. Nayef Jarrous as the Minority Affairs Advisor to Hebrew University President Menahem Ben-Sasson.

Prof. Jarrous, a lecturer and researcher in the Hebrew University's Faculty of Medicine, will work with Dean of Students Prof. Yehuda (Udi) Shavit and Vice Rector Prof. Orna Kupferman to promote minorities' access to higher education.

''The program to increase access for minority students is comprehensive and addresses the entirety of a student's academic career, from the Mechina (preparatory program) all the way through advanced degrees and finding employment,'' explains Prof. Jarrous. ''My goal is to get this program implemented. We are establishing a six-week preparatory program for minorities that will start before the first semester of next year, and we will work to bring back researchers from minority backgrounds who are doing postdoctoral work abroad, and incorporate them into our faculty.''

The Hebrew University initiative follows a decision by the Planning and Budgeting Committee (PBC), a sub-committee of the Council for Higher Education, to promote minority students' access to academic institutions.

The program includes plans for university representatives to conduct visits to minority schools in the Galilee and Jerusalem, as well as enhanced academic and social counseling programs for first-year students from minority backgrounds, and assistance in finding employment in technology and high-tech.

''Professor Jarrous will work in collaboration with the program for the advancement of Arab students that operates as part of the Dean of Students office,'' said Vice-Rector Prof. Orna Kupferman. ''In addition to activities to help Arab students, such as translating the University's website into Arabic or expanding counseling services, we hope to increase the proportion of Arabs among the student body, faculty and administration, and expand the range of subjects that Arab students study.''

According to Hebrew University President Prof. Menahem Ben-Sasson, ''The goal of integrating minorities and making higher education accessible to the public is both a national objective and an essential principle of the Hebrew University. The appointment of Professor Jarrous will enable us to expand our activities in this area.''

A graduate of the Hebrew University, Prof. Jarrous is a lecturer and researcher in the Department of Microbiology and Molecular Genetics at the Institute for Medical Research Israel-Canada in the Faculty of Medicine. He is the director of a molecular genetics laboratory specializing in the study of genetic processes.