11 June, 2012


A record-breaking 366 graduating Ph.D.s are told 'Anything is possible' by Paralympic athlete-activist Rick Hansen
Canadian athlete and disability rights activist, one of ten honorary doctorate recipients, invites the graduates to stand and express their gratitude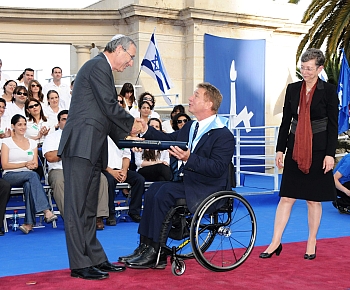 (L to R) Hebrew University President Menahem Ben-Sasson shakes hands with honorary doctorate recipient Rick Hansen as Hebrew University Rector Sarah Stroumsa looks on

Moments before a record-breaking 366 Hebrew University doctoral students received their Ph.D.'s today, Canadian Paralympic athlete and advocate for the rights of people with disabilities Rick Hansen invited them to stand and give thanks to everyone who helped them achieve their objective.

Speaking on behalf of his fellow honorary doctorate recipients, Hansen said, ''At this moment of celebration we are reminded that no one ever gets anywhere on their own. I hope that all of you are reminded that it is because of your faculty and staff, family and friends and community, that you are here at this moment celebrating success, and I invite the graduates to stand and express your gratitude.''

Hansen, who was paralyzed from the waist down at the age of fifteen and became a champion athlete and advocate for people with disabilities, told the graduates, ''I feel like I'm one of the luckiest people on the planet being with you in this special place, Hebrew University, feeling like we have Jerusalem in the palm of our hand, believing that new goals and new dreams will be unfolding.''

He concluded by telling the graduates, ''As you go forward there will be challenges, times when you will be struggling and thinking of giving up hope. I encourage you to realize it is not what happens to you in these times but what you do with it. I also believe that anything is possible. I believe anything is possible.''

The other recipients of honorary doctorates were French academia leader Monique Canto-Sperber, playwright and director Michael Gurevitch, Australian businessman and community leader Harry Hoffman, philanthropist Susan Koret, economist Dr. Bernardo Kligsberg, historian Sir Fergus Millar, business and economics leader Eitan Raff, materials scientist and Nobel Laureate Dan Shechtman, Canadian political scientist Janice Gross Stein, and geologist Edward Stolper.

Bedouin rights activist Amal Elsana Alh'jooj received the Solomon Bublick Prize in recognition of her longstanding activism on behalf of the rights of the Bedouin in Israel, and cognitive psychologist Professor Reuven Feuerstein received the Samuel Rothberg Prize for Jewish Education for his extraordinary achievements in the treatment of children and adults with special needs.

The convocation took place at the Rothberg Amphitheatre, Mount Scopus campus.