11 March, 2012


Exhibit celebrates 27 Hebrew University innovators whose products benefit humanity
Permanent display documents 'the start-up of the start-up nation' in honor of Israel's National Science Day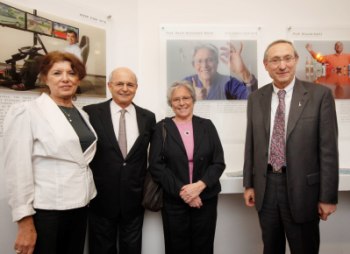 (L to R) Hebrew University vice-president and director-general Billy Shapira, Board of Governors chairman Michael Federmann, innovator Prof. Marta Weinstock-Rosin, and president Prof. Menahem Ben-Sasson

The Hebrew University of Jerusalem launched a new permanent photo exhibit today at its Mount Scopus campus. Called ''Innovators Way,'' the display showcases 27 Hebrew University researchers whose work led to commercial products in fields such as health, safety, environment and nutrition.

Hebrew University president prof. Menahem Ben-Sasson said, ''If Israel is the start-up nation, then the Hebrew University is the start-up of the start-up nation. Our innovators' exemplary ability to combine basic and applied research enables millions around the world to enjoy the fruits of their labor.''

Vice-president and director general Billy Shapira added, ''Establishing the Innovators Way is the University's way of saying thank you to some of the many researchers working with us. Today is only the first step and we look forward to expanding this exhibition to include additional Hebrew University innovators and their creations.''

The exhibition includes innovations such as:

— A drug that slows the progression of Alzheimer's disease
—A system that prevents accidents by warning drivers in real-time about dangerous conditions
—Cherry tomatoes and cluster tomatoes, now popular consumer products worldwide
—A delivery system for treating gum disease by releasing an antibacterial agent into the periodontal pockets
—A technology that enables hours of security camera footage to be viewed in minutes
—An eye drop therapy and an ointment for treating psoriasis
—A nanotechnology delivering drugs and treating skin disorders such as herpes.

The Hebrew University has registered approximately 7,000 patents protecting roughly 2,000 inventions and innovations, and has founded 72 companies based on them.

The innovators were joined at the event by Prof. Menahem Ben-Sasson, Hebrew University president; Mr. Michael Federmann, chairman of the Board of Governors; Prof. Shy Arkin, vice-president of research and development; Mr. Yaacov Michlin, CEO of Yissum Research Development Company, the technology transfer company of the Hebrew University; and representatives of the executive committee, among others.

The exhibition's photographer, Nati Shohat, is the founder of Flash 90, a photography agency that supplies photographs to newspapers, magazines and other customers in Israel and abroad. Shohat's news photography and artistic and portrait work have been exhibited in many venues and in publications such as Stern Magazine, Paris Match, Le Monde, Time and others.