23 April, 2007


Five Hebrew University professors awarded Israel Prize in 2007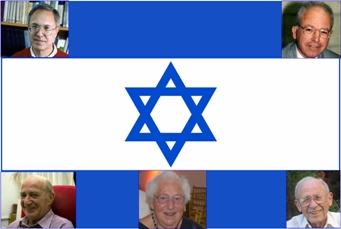 Israel Prize winners. Clockwise from top left: Prof. Shalom Schwartz, Prof. Amnon Cohen, Prof. Zvi Selinger, Prof. Alice Shalvi and Prof. Nissan Levitan

The Hebrew University of Jerusalem congratulates five Hebrew University professors who will be awarded the Israel Prize for 2007 on Israel's Independence Day, tomorrow, April 24.

Professor Alice Shalvi from the Hebrew University's English department will be awarded the 2007 Israel Prize for Lifetime Achievement and Special Contribution to Society and the State of Israel. Described as ''revolutionary and courageously trailblazing, with intellectual integrity and long-term vision,'' Shalvi is one of Israel's foremost feminist leaders and scholars. She was also among the founders of the Israel Women's Network, and chaired it from its founding in 1984 until 2007.

Prof. Shalom Schwartz from the Hebrew University's department of psychology will be awarded the 2007 Israel Prize in psychology. Considered ''one of the leading social psychologists in Israel,'' for the past 40 years, Schwartz has conducted in depth research on the subject of personal and cultural values. He developed a theory on the universal structure of human value systems and researched the theory in a wider inter-cultural context. His research has influenced many fields, including organizational behavior, marketing, political psychology and developmental psychology.

Prof. Amnon Cohen from the Hebrew University's department of Islamic & Middle Eastern Studies will be awarded the 2007 Israel Prize for Land of Israel Studies for his research of the land of Israel during the Ottoman period, specifically the archives of the Ottoman Muslim courts of Jerusalem during the Ottoman rule (1517-1918). Other research areas include political parties in the West Bank during Jordanian rule and political and social developments in the post-Saddam era in Iraq and the impact of the country's ethnic and communal fault-lines. Cohen served as director of the Harry S. Truman Research Institute for the Advancement of Peace between 1998 and 2003.

Prof. Nissan Levitan from the Hebrew University's department of economics will be awarded the 2007 Israel Prize in economics for his contribution not only to economic research, but also to the strengthening of economic policy in Israel - both at times when Israel was undergoing economic difficulties in 1985, and also for many years as consultant to the Bank of Israel, where he influenced many generations of researchers and policy-makers.

Prof. Zvi Selinger from the Hebrew University's department of biological chemistry will be awarded the 2007 Israel Prize in biology for his groundbreaking achievements in transmembrane signaling and his discovery of the consequences of the signaling process which he deciphered on various levels of biological activity. Selinger was in charge of life sciences at the National Council for Research and Development and was a member of the Israel-Germany Steering Committee for Biotechnology.

Winners of the Israel Prize, the nation's highest civilian honor, are chosen in a variety of fields each year by special panels under the auspices of the Ministry of Education and Culture. The prizes are presented in a festive ceremony on Israel Independence Day.




Downloadable File: IsraelPrize2007.doc