28 May, 2012


Top economist Jeffrey Sachs to tell what went wrong in the US... and maybe Israel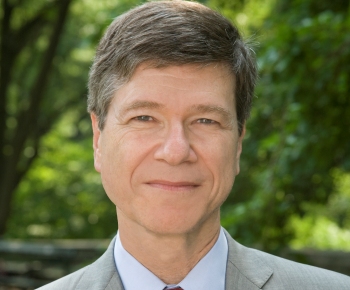 Prof. Jeffrey Sachs

World-renowned economist Prof. Jeffrey Sachs will speak at the Hebrew University of Jerusalem on May 29 on the topic ''Rethinking the Goals of Economic Growth: inequality, happiness, sustainability, and what has gone wrong in the US and perhaps in Israel." Sachs is a world-renowned professor of economics, leader in sustainable development, senior UN advisor, bestselling author, and syndicated columnist whose monthly newspaper columns appear in more than 80 countries.

The lecture, part of the Max Bogen annual lecture series, will take place at 4:30 p.m. in Room 1701 of the Faculty of Social Sciences, Mount Scopus campus. The lecture is in English.

The New York Times called Prof. Sachs ''probably the most important economist in the world,'' and a recent survey by The Economist Magazine ranked him among the world's three most influential living economists of the past decade. Time Magazine called him ''the world's best known economist'' and has twice named one of the 100 most influential world leaders.

Prof. Sachs serves as Director of The Earth Institute at Columbia University, as well as Quetelet Professor of Sustainable Development and Health Policy and Management. He is Special Advisor to United Nations Secretary-General Ban Ki-moon on the Millennium Development Goals, and has authored three New York Times bestsellers in the past seven years: The End of Poverty (2005), Common Wealth: Economics for a Crowded Planet (2008), and The Price of Civilization (2011).