15 December, 2011


Nobel laureates gather at Hebrew University's Institute for Advanced Studies meeting in Stanford, California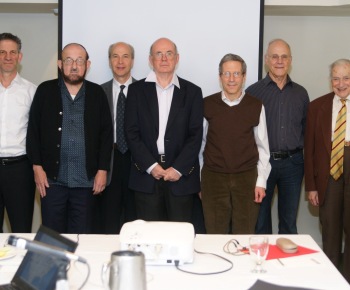 From left: Peter Sarnak (Cole Prize winner), Prof. Soloveitchik, Roger Kornberg (Nobel in chemistry), Eliezer Rabinovici (Director of IAS), Eric Maskin (Nobel in economics), David Gross (Nobel in physic), Kenneth Arrow (Nobel in economics)

Four Nobel Laureates and a winner of the Cole Prize in Number Theory recently gathered at a meeting in Stanford, California. The prize winners are directors of the five Advanced Schools at the Institute for Advanced Studies (IAS) at the Hebrew University in Jerusalem.

''This was a unique gathering at which we succeeded in bringing together the heads of all five Advanced Schools in order to discuss the Schools' futures, with the goal of advancing the Institute's mission to serve as an international and interdisciplinary scientific arena,'' said the Institute's Director, Prof. Eliezer Rabinovici of the Hebrew University's Racah Institute of Physics. He added that the meeting provided an opportunity for the University's friends and supporters to meet the Schools' directors personally and acquaint themselves with the workings of the IAS.

Organized by American Friends of The Hebrew University (AFHU), the meeting took place at the home of Dan Meidan, former president of Applied Materials. Also present was Rabbi Haym Soloveitchik, a leading Jewish thinker and historian.

Each year the IAS hosts five short-term Schools for young researchers in Economic Theory, Jewish Studies and Comparative Religion, Life Sciences, Mathematics, and Theoretical Physics. The schools provide a venue for academic cooperation and brainstorming among its scholars and students, who hail from such diverse locales as Western and Eastern Europe, North and South America, China, India, Japan, Korea, the Philippines and North Africa.

Participated in the meeting: Peter Sarnak (Cole Prize recipient), Haym Soloveitchik (professor of Jewish history and literature at Yeshiva University), Roger Kornberg (Nobel laureate in chemistry), Eliezer Rabinovici (Head of the Institute for Advanced Studies), Eric Maskin (Nobel laureate in economics), David Gross (Nobel laureate in physics), and Kenneth Arrow (Nobel laureate in economics).