01 December, 2008


Hebrew U. to present first-ever Einstein Award to Bill Gates at gala dinner in New York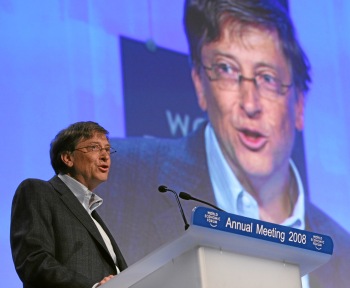 Bill Gates (Photo: Courtesy of the Bill & Melinda Gates Foundation)

Bill Gates, founder and chairman of Microsoft and co-chair of the Bill & Melinda Gates Foundation, will receive the first-ever Einstein Award from the Hebrew University of Jerusalem on Tuesday, Dec 2, at a gala dinner being hosted by the American Friends of the Hebrew University.

The award will be presented to him in New York in recognition of his unique impact on the world through philanthropy, global leadership and technological vision. Proceeds from the event will benefit pioneering research at The Hebrew University's Robert H. Smith Faculty of Agriculture, Food and Environment, developing innovative solutions to feeding the world through sustainable agriculture.

Honorary chair of the event is American philanthropist Robert H. Smith, who has continued the tradition of his family in supporting the Hebrew University of Jerusalem. He was the primary funder for a project estimated at approximately 70 million dollars to enable the Faculty of Agriculture, Food and Environment to combat the growing challenge of the global food shortage. In gratitude of his support, the Faculty was renamed in his honor.

Honorary co-chairs of the event are Connie and Harvey Krueger, Alex Grass, Charles H. Goodman and Roz and Ralph Halbert.

Gala executive co-chairs are President of the Dan Hotel Corporation Michael Federmann and his wife Liorah, Dell computers founder and CEO Michael Dell and his wife Susan; President and CEO of the Four Seasons Hotels Isadore Sharp and his wife Rosalie; Charles Bronfman and his wife Bonnie; Dina Dublon, Dr. Phillip Frost, Patricia and Mark R. Gordon, Barbara and Morton Mandel, Ronald O. Perelman, Jackie and David Simon and Daphna and Richard S. Ziman.

The Gates Foundation leads the way in fighting world hunger and tackling problems created by climate change and population growth in the 21st century. These same challenges form the core of the mission of the Hebrew University's Robert H. Smith Faculty of Agriculture, Food and Environment.

The Faculty conducts research that seeks to provide enough healthy food for the world's growing population while protecting and sustaining the environment. The Faculty is a recognized world leader in agricultural know-how, training and technology. It has conducted pioneering research in many developing countries, provides essential scientific training for students from these countries and counts innovations such as drip irrigation, aquaculture, functional foods and waste-water recycling among its many achievements.




Downloadable File: gatesRewardEn.doc