23 September, 2008


Night of scientists at Hebrew U., Science Museum
Einstein's telescope on show for first time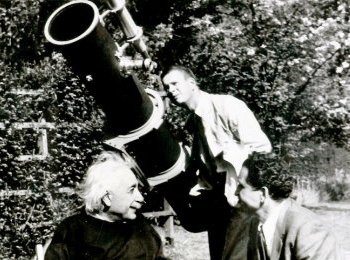 Albert Einstein with the telescope (Photo: Courtesy of the Albert Einstein Archives)

A special night activity, "Night of the Scientists," featuring scientific demonstrations, exhibits, lectures and tours for the public, will be held starting at 5 p.m. on Thursday, Sept. 25, at the Edmond J. Safra Campus of the Hebrew University of Jerusalem and the Bloomfield Science Museum Jerusalem, as well as at other sites around the city and country..

The program at the Hebrew University, organized by the university's Authority for Community and Youth with backing from the European Union, will continue through the evening and is designed to give the participants -- children, youth and adults -- a glimpse of the varied facets of the world of science.

Among other events in the course of the evening, the university will be showing for the first time a telescope that once belonged to Albert Einstein. A photograph of Einstein with the telescope was found in an archival search at the university, and subsequently the telescope itself was discovered in a storage room of the university's Feldman Building on the Safra campus.

Einstein received the telescope in May 1954 while living in Princeton from amateur astronomer Zvi Gezri. It was given to Einstein for his involvement as a friend of the Ben Shemen youth village. It has been expertly restored to working condition and will officially go on display at 6:30 p.m. in the Youth Science Activities Building on the Safra campus.

Among the many activities that night, visitors will be able to observe the heavens through telescopes, participate in workshops for scientific crime investigation and disease identification, join tours of laboratories and of the university's fossil and geological collections, and attend scientific presentations and lectures.

At the Bloomfield Science Museum Jerusalem, there will be activities on the topic of biomedical research, meetings with researchers on stem cells and on intervention in various life processes, and a discussion on the cultural and ethical questions dealing with these two issues.

There will also be other science-related events that evening in various coffee houses in the city and at the Jerusalem Cinematheque.

Also in connection with the special event, there was a competition this year organized by the Bloomfield Science Museum Jerusalem of photographs of scientists taken by amateur photographers. The winning photographs will be shown beginning on Sept. 25 in the three science museums in Israel.

This is the third year that the special night science program sponsored by the European Union is being presented in Israel.




Downloadable File: NightofScientists08.doc